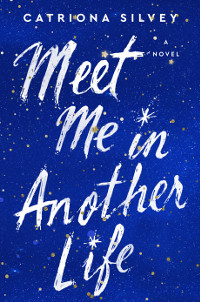 US edition
Out Now!
Order: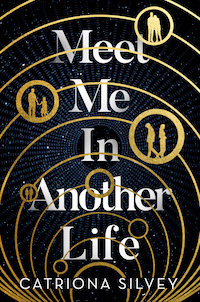 UK edition
8 July, 2021
Preorder:
MEET ME IN ANOTHER LIFE
"Brilliant, lush, and achingly imaginative! I love this book in every life."
Beth Revis, New York Times bestselling author of Across the Universe and A World Without You
"Silvey has written both an intriguing thought experiment and a sweet, melancholy heartache of a novel. I found Santi and Thora's bond, in the many varied forms it took from life to life, moving and claustrophobic. Given the smaller spheres many of us are currently living within, their mutual reliance felt particularly poignant. The story said something, too, of the way we carry old griefs and joys from one relationship to another; and asks the reader how much we are shaped by the people we love."
Kate Mascarenhas, author of The Psychology of Time Travel
"An entirely surprising, thoroughly enjoyable look at relationships in a multiverse. Catriona Silvey has given us Einstein's Dreams with a punch. Meet Me in Another Life asks what if we could live all our best and worst selves, and what if all those selves have one specific purpose. A truly captivating work with an ending that rocked my socks off."
Erika Swyler, author of Light from Other Stars and The Book of Speculation
"Inventive, bold and surprising—from where the novel starts I could have never imagined where it ends. Along the way the story of Thora and Santi builds in suspense and emotion, revealing itself page by page, layer by layer. Cleverly constructed and highly entertaining."
Two people. Infinite lifetimes. One impossible choice.
Thora and Santi are strangers in a foreign city when a chance encounter intertwines their fates. At once, they recognise in each other a kindred spirit—someone who shares their insatiable curiosity, who is longing for more in life than the cards they've been dealt. Only days later, though, a tragic accident cuts their story short.
But this is only one of the many connections they share. Like satellites trapped in orbit around each other, Thora and Santi are destined to meet again: as a teacher and prodigy student; a caretaker and dying patient; a cynic and a believer. In numerous lives they become friends, colleagues, lovers, and enemies. But as blurred memories and strange patterns compound, Thora and Santi come to a shocking revelation—they must discover the truth of their mysterious attachment before their many lives come to one, final end.